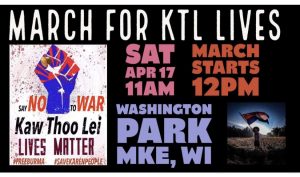 Shared from a Facebook event, found here.
We need justice. Please come stand with Karen (Kah-REN) people from Milwaukee, help them get their home back, honor the lives lost on the battlefields, and the innocents who have to run from their own homes.
You may have heard about protests and a coup in the country called Myanmar, or Burma. Its a very intense and confusing conflict that hasn't been covered very well in US media, but when Myanmar was established, its borders were imposed on a few different ethnic groups in the area. Some of these groups have been subject to terrible oppression and genocide for decades. That violence is getting worse under the military dictatorship.
We're marching in solidarity with one of those groups, called the Karen. I know, nowadays the first thing people think of when they hear the name Karen is white women acting up, but it's also a people who have been running, dying, and surviving under different military regimes since 1949. Many lives were lost, even under the democratic government before the recent coup.
The Karen call their homeland Kaw Thoo Lei, which means "land without evil."
Karen homes are being burned, their land bombed, women raped, men and even children killed. Children have been trained early to become soldiers for the Tatmadaw military that is killing protesters in the streets so much today.
******SCHEDULE OF EVENTS******
11:00am******
Speakers, Singers, Flyers, T-shirts, Snacks, Water, Music & More (we will also pass out signs to hold up during the march – no need to bring your own unless you want to!)
WASHINGTON PARK, MILWAUKEE, WI
12:00pm******
March – cars, bikes, skateboards, other ways of transport also encouraged!
(Specific route is TBA – we will get everyone back to Washington Park by 3:00pm)
Please invite, share, and help to raise awareness!
*******************************************
Find more information about what's happening in Myanmar here.
Consider Boycotting these western companies.